Guiyang round accomplishes, Changan Ford the biggest winner after gambling
source:
CTCC官方网站
Date:
2017/7/21 0:00:00
June 25th 2017, the third round of SINOPEC Lubricant China Touring Car Championship (CTCC) ends at Guizhou Junchi international circuit. After a 22-lap race one, JIM Ka To , who represents Dongfeng Yueda KIA team achieves a pole to win, Changan Ford's CAO Hongwei second and BAIC Senova's ZHU Huan third. As for the second race, Changan Ford occupies all podium places as CAO Hongwei leading James NASH and HE Xiaole. In the opening race of China Trophy division, LIU Yang from GAC Toyota also accomplishes a pole to win while FAW Toyota's SUN Chao and XIA Yu second and third. When it comes to race two, FAW Toyota's CUI Yue finishes first, GAC Toyota's DENG Baowei second and Freely Racing's WU Zhou third. Both manufacturer champions go to FAW Toyota.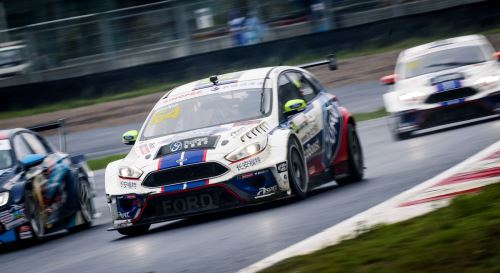 Big game of five dynasties
Several guests attended the opening ceremony at the noon of Sunday, including LIN Jie, vice president of CAMF, WU Rong, chief of Guizhou mountain sport center, UOZUMI Yoshihiro, general manager of GAC Toyota Motor Sales Co., Ltd and CHEN Siying, vice manager of BAIC Sales Co., Ltd.。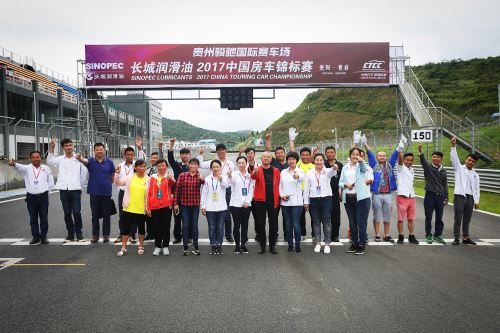 The general form of five contenders fighting for the victory has been kept within Super Trophy division. After the maiden win scored by ZHANG Zhiqiang during last round in Zhaoqing, JIM Ka To grabbed both pole and race one win in Qingyan, which also gave Dongfeng Yueda KIA the first taste of manufacturer victory since graduated to the top level campaign. Meanwhile, that was also the first win for JIM since the opening round of 2016 season in Nanjing, more than a whole year ago.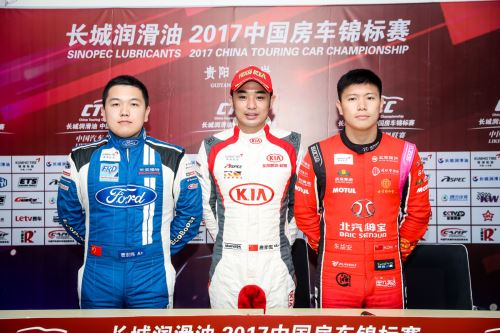 The second race was under Changan Ford's control. Right before the start, CAO Hongwei advised the engineer to use slick tires instead as the circuit was getting drier gradually. Despite the decision was relatively risky, it somehow worked and totally changed the situation. As CAO Hongwei crossed the line first with James NASH and HE Xiaole behind, Changan Ford became the first team which took all podiums in a single race in 2017 season. What is more, with the huge success in Qingyan, Guiyang, Changan Ford stretched its lead further and now holding an advantage over 40 points.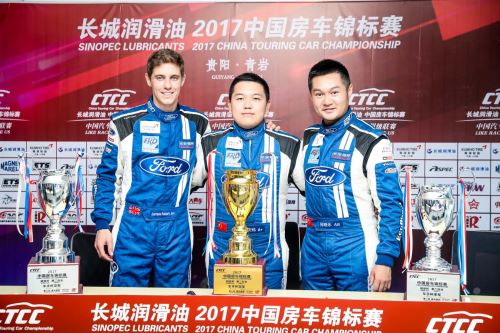 SAIC Volkswagen 333 Racing failed to maintain the favorable situation since opening round as none of them end up with a podium, ZHANG Zhendong and Rodolfo AVILA joined the highest finishers with sixth places in two races respectively.
Despite didn't replicate the strong achievement of last year, when they scored both wins in two races, BAIC Senova Team still managed to jump ahead of SAIC Volkswagen 333 Racing thanks to ZHU Huan's third place in race one.
As HAIMA Extreme Power Racing's Swedish driver Leif TOMAS finished fourth in race two, the intense battle between will definitely be dragged into Sheshan round in Shanghai, which will be in action in two weeks.
Head to head between Toyotas
As expected, Qingyan round was another face to face between GAC Toyota and FAW Toyota. Although FAW Toyota seized wins in both races from biggest rival, they only eliminated a deficit of 1 point each time. As a result, GAC Toyota is still leading while the advantage is over 10 points.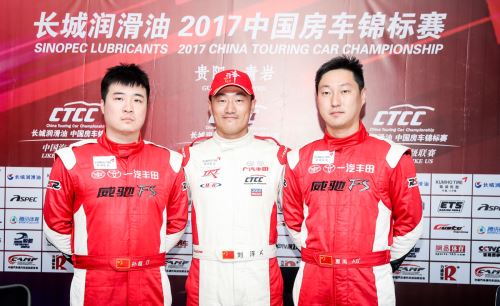 GAC Toyota's LIU Yang didn't meet any challenge in race one. He has never lost the lead since light off and finally built an gap over 11 seconds, which means he was half a second faster per lap in comparison with second place finisher SUN Chao. However, there were more stories in race two. GAC Toyota's LIN Lifeng was caught out by FAW Toyota's GAO Huayang while defending for the lead and both ended up in beach; the latter was an early challenger but one lap down and out of contention at that time. CUI Yue, who won the race for FAW Toyota admitted that their cars weren't as fast as rival's. Besides that, CUI said he is ready to sacrifice himself for the benefit of the team since he can't attend all rounds of the season.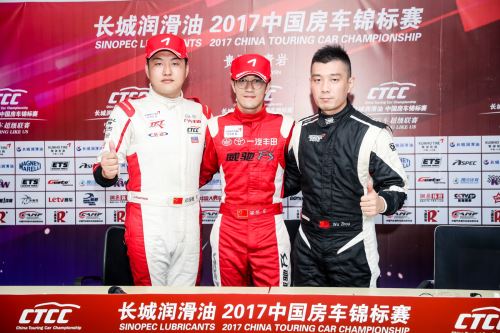 Undoubtedly, LEO109 Racing was the biggest winner among club teams and clinched both victories. As the season moving forward, the frontrunners will be hampered by sandbag system and the races will be more exciting and unpredictable.
YANG Shuo and ZHENG Wancheng win supporting race TMC
TMC Touring Car Masters Championship kicked off its 2017 season in Guizhou Junchi circuit as well. After the endurance race in Saturday, there were two 15-lap sprint races. In the earlier one, YANG Shuo finished first in NO.1 car, followed by LU Junjie in NO.8 and LIU Sen in NO.6. The later one also comprised 15 laps and all cars switched to another driver. This time, ZHENG Wancheng won for NO.8 with NO.11's WAN Jincun second and NO.1's LI Lin third after a close fight.
Many a spectators were attracted to Sunday's races. The CTCC round has been the third race weekend at Guizhou Junchi international circuit, but the fans were delighted rather than tired. Despite the weather of Sunday was not particularly good, the spectators kept watching the races by taking umbrellas, wearing ponchos or even exposing themselves to the rain. Even when the circuit was out of race, there were multiple activities such as production cars test drive and catering at the back side of the circuit that spectators enjoyed themselves. Moreover, the marshals also did an excellent job. None of the successful races can be held without their distribution.
Following the end of Guiyang Qingyan round, SINOPEC Lubricant China Touring Car Championship (CTCC) will move to Shanghai Tianma Circuit during July 7th and 9th for the fourth round of 2017 season.